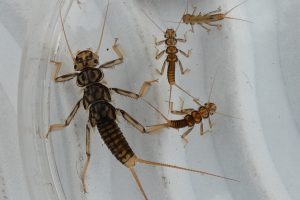 Biodiversity Week Event No 2
Launch – Training in Water-Conservation and Protection in County Roscommon.
Launch Date: 8pm Fri 21st May 2021
You are invited to join us for the launch of three free courses, entitled
"Introductory Training in Water Conservation and Protection in Co
Roscommon". At the launch you will have the opportunity to meet with the two
very experienced trainers, Professor Ken Whelan and Martin
McGarrigle. The three courses will be based around the locations of Boyle,
Castlerea and Roscommon, but are open to anyone living or active in the
wider county.
Professor Whelan said:
"The level of interest in these courses is really heartening. We are
surrounded by a very special and beautiful natural resource in our rivers
lakes and streams, and yet for most people what goes on under the surface is
a mystery. We have run similar courses across Ireland, and it is always very
pleasing for us to see the growing enthusiasm of the participants as the
course progresses and we move outdoors and explore these wonderful habitats"
Participants will learn about the myriad of life forms in County Roscommon's
unique streams, rivers and loughs
* If you want to learn about the ecology and biodiversity of your
local streams, rivers, loughs and wetlands?
* If you want some practical and hands-on engagement with these local
waters?
* If you would like to learn, share ideas, gain expertise in the areas
of water conservation and protection?
Then this course is for you!
Michael Ewing, Chair of Roscommon Environmental Network said:
"Our fresh waters are so important to our wellbeing, and it is clear that
their health is closely linked to our own. These courses will enable us to
understand just why they are so important, as well about all the plants and
animals that rely on these watery arteries. Our lakes rivers and streams are
under threat, and our two trainers, Ken and Martin will show us why and how
we can do something about it"
These Courses will be of particular interest for Tidy Towns Groups, Angling
Groups, Community Groups, Teachers and Environmental Groups.
More details will be shared at the online launch, 8pm Fri 21st May. Email michaelewingien@gmail.com for an invitation to the launch.
More Details of the Course: at http://roscommon.waters-project.com/
Course will run in July & September 2021,.
Tel: 0872526639 (MMcG) or 0867835900 (KW)